ScheduleForce.net
Features
Benefits
Services
Schedule Theory
The following statement is at the heart of ScheduleForce:

There is more than one way to schedule staff.

This should be obvious, but it is one of the key ways that existing staff scheduling software falls short. At the very root of scheduling in any business, there is a choice to either schedule staff by the needs of the business, or by the needs of the staff. An example of this might be: "Full time staff always work their set shifts, whether they are required or not." This is meeting the needs of the employee. Alternatively, a business may call staff to work only as required, and this fits closely the needs of the business.

ScheduleForce can accommodate both of these methods, as well as a hybrid of both, which is what most businesses require but few scheduling systems can accomplish.
Pattern Based Scheduling
Using the Pattern based scheduling in ScheduleForce, you can create patterns for any length of days, which is done by using a visual pattern "plotter" like this example: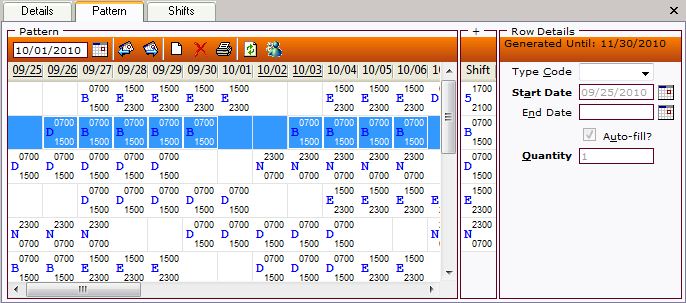 Ad-Hoc or On-Demand Scheduling
This is also easily accomplished by being able to plot additional shifts for specific days without a specific pattern of work. This allows easy addition to your schedule of increased work demand.